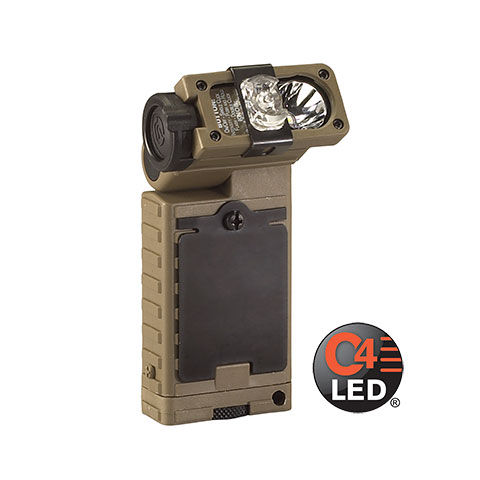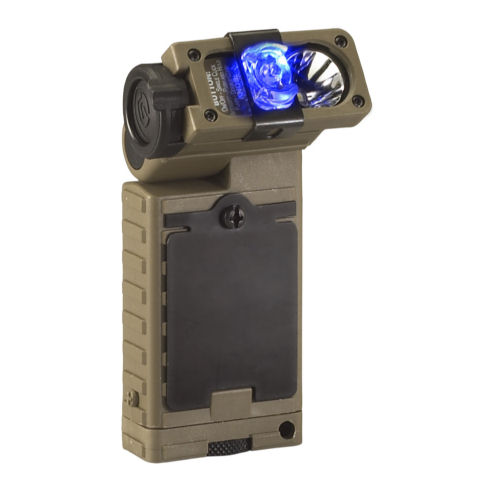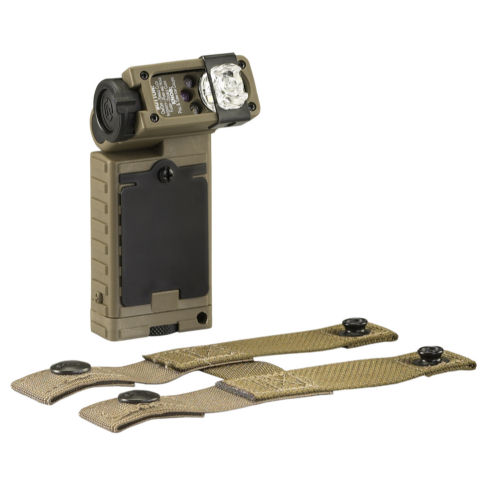 Click on images for larger view
Streamlight Sidewinder Rescue Flashlight (Aviation Model)
Our Price $81.75 to $110.93 | You Save 25% | Retail $109.00 to $147.90
No: 10-5805

Selections over $99 qualify for FREE Shipping.
The Streamlight Sidewinder Rescue is a slim, lightweight personal light that can be used as a life-saving beacon in times of distress. A 185° articulating head features a "slide-in-place" diffuser that projects omni-directional light so you can be seen from almost anywhere.
The Streamlight Sidewinder Rescue Flashlight is a compact, high performance, multi-source LED flashlight with C4®LED technology. This flashlight has been engineered to meet a variety of hands free task illumination requirements with various color LEDs operable at varying outputs and runtimes.
Streamlight Sidewinder Rescue Flashlight Features:
• Four LEDs provide all of the colors you need for a distress marker - no need to use filters that can get lost or broken
• All LEDs provide unidirectional light for general lighting needs and omni-directional light when using the slide-in-place diffuser
• Diffuser provides omni-directional light per CID A-A-59176 (formerly MIL-SPEC MIL-L-38217D)
• Flash rate: 110 bpm (default); push and hold button to achieve 50 bpm
• Push-button switch enables/disables selected illumination source
• Pull-to-turn rotary selector knob for LED selection; prevents accidental mode changes
• Powers on at low output and progresses to high intensity in four discrete steps
• Double-click push button for strobe (all LED colors have a strobe function)
• Two "AA" alkaline batteries (included) provide fast replacement with readily available batteries
• Accepts two "AA" lithium for extended operation in extreme temperature environments (-40F to 150F)
Streamlight Sidewinder Rescue Flashlight Specs:
• Dimensions: L x W x D: 2.34" x 1.08" x 4.65"
• Weight: Lithium - 4.38 oz; Alkaline - 5.02 oz
• Available in Coyote
• High-impact, super-tough, nylon cases offers exceptional durability and weather resistance
• Gasket-sealed, unbreakable polycarbonate lens with scratch-resistant coating
• 3 meter multiple orientation impact resistance tested
Streamlight Sidewinder Rescue Flashlight Lumens and Runtimes:
• White LED: 55 / High-5.5 hrs, Med2-11 hrs, Med1-45 hrs, Low-100+ hrs, Strobe-10 hrs
• Blue LED: 1.8 / High-16 hrs, Med2-35 hrs, Med1-100 hrs, Low-150+ hrs, Strobe-30 hrs
• IR LED: 25mW / High-24 hrs, Med2-60 hrs, Med1-140 hrs, Low-200+ hrs, Strobe-40 hrs
• Green LED: 4.5 / High-16 hrs, Med2-35 hrs, Med1-100 hrs, Low-150+ hrs, Strobe-30 hrs
---
Available Accessories
Streamlight Sidewinder Compact Safety Wand - Glow in the Dark
Learn more...

Streamlight Sidewinder Replacement MOLLE Retainer
Learn more...