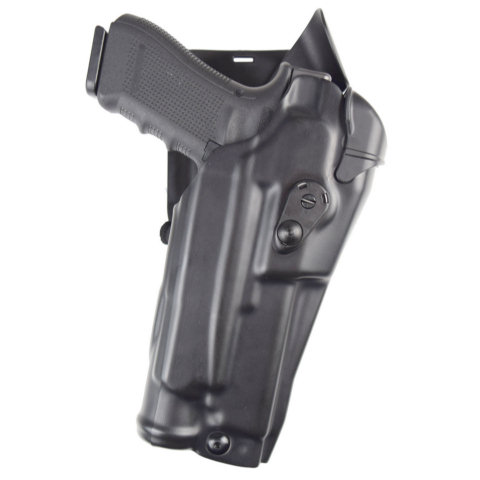 Click on image for larger view
Safariland 6395RDS ALS Level I Low-Ride Duty Holster
Our Price $130.90 | You Save 15% | Free Shipping
Retail $154.00
No: 23-4650
Note: Items highlighted in Green and/or state "In Stock" are immediately available as of 06/25/2017. Items highlighted in Blue or state "Restocking" are stock items and will ship as soon as stock arrives. Click for More Information

These items all qualify for FREE Shipping.
Safariland RDS Holsters for the S&W M&P 9/40 Core and 9L Core will be released for production early to mid July 2017
The Safariland 6395RDS Level I Low-Ride Duty Holster is specifically designed for firearms with red dot sights mounted to them. This open top holster features the Automatic Locking System (ALS®), an internal locking device that retains the weapon in all directions with no straps or snaps to manipulate. Once the weapon is holstered, it locks into place. The holster is completely operable with the thumb and once the ALS® is deactivated a simple straight up draw is used. Features a low-ride belt loop that is 1.5" lower than standard, rides close to the body, and has a suede lining to protect the gun's sights and finish.
Safariland 6395RDS ALS Level I Low-Ride Duty Holster Fits Red Dot Sights:
• Burris Fast Fire
• Dr. Optic Red Dot
• JPoint
• Leupold Delta Point
• Trijicon RMR
• Vortex Viper
Safariland 6395RDS ALS Level I Low-Ride Duty Holster Features:
• For firearms with Tactical Weapon Lights and Red Dot Sights
• Level I Retention
• ALS Automatic Locking System secures weapon once holstered
• Slim, compact design allows weapon to ride close to body
• Simple straight up draw once ALS release is de-activated
• Low-Ride belt loop
• Available in STX finishes
---