PRINTABLE ORDER FORM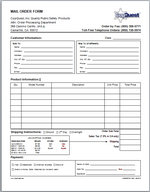 If you do not want to place your order on the Internet and prefer to use a printed order form, you may download our order form and place your order by Fax or by Mail. We accept Visa, MasterCard, American Express, JCB, Money Orders or Personal Checks with mail orders. Credit cards are not charged until your order is actually shipped. Orders accompanied with personal checks are subject for a 7-day waiting period for verification of funds.
The order form is in Adobe® Acrobat™ format. You can download a free reader by clicking the "Get Acrobat Reader" image below. Once you download the form, print it, fill it out and either fax it or mail it to the address below.
CopQuest Printable Order Form
Order Form
Click here to download our PDF order form
Acrobat Reader
The order form requires Adobe Acrobat Reader. If you don't already have this utility, you can download it for free by clicking this icon:

Fax To:
(805) 388-0771
Mail To:
CopQuest Orders
365 Camino Carillo, Ste A
Camarillo, CA 93012