Click on images for larger view
BlackHawk Serpa CQC Concealment Holster - Carbon Fiber Finish
Our Price $51.42 | You Save 17%
Retail $61.95
No: 26-4715
Note: Items highlighted in Green and/or state "In Stock" are immediately available as of 08/17/2017. Items highlighted in Blue or state "Restocking" are stock items and will ship as soon as stock arrives. Click for More Information
The BlackHawk Serpa CQC Carbon Fiber Holster is a unique holster design that allows you to forget the old-fashioned thumb breaks that slows your draw and complicates re-holstering. The patented SERPA™ lock engages the trigger guard as you holster the pistol and won't let go until you release it.
The release is made using your normal drawing motion, with the trigger finger beside the holster body. As your trigger finger naturally comes to rest on the SERPA™ lock's release mechanism, simply push the mechanism as you draw the weapon and it releases the gun for a smooth, fast draw.
No awkward use of a middle finger release or thumb break to interfere with a full combat grip, the SERPA™ lock lets you draw the weapon quickly while establishing a full grip from start to finish. Unlike thumb breaks, which can sometimes be difficult to fasten one-handed, the SERPA™ lock allows you to re-holster quickly and securely every time, using only one hand.
The SERPA™ holster has the same speed cut and concealment enhancing design of BlackHawk's Standard Model Carbon Fiber Holster. All BlackHawk® CQC™ SERPA™ holsters come with both belt loop and paddle platforms.
BlackHawk SERPA CQC w/Carbon Fiber Finish Features:
• Passive retention detent adjustment screw
• SERPA® Auto Lock™ release
• Reinforces full master grip and superior draw technique
• Immediate retention
• Audible click upon re-holster for security
• Speed-cut design allows rapid draw, target acquisition
• Includes belt loop and paddle platform
• Available in black matte finish
• Right/Left Fits and Right Fits Only
• Includes belt loop and paddle platforms
• Fits 2.00 & 2.25 Inches Belts
---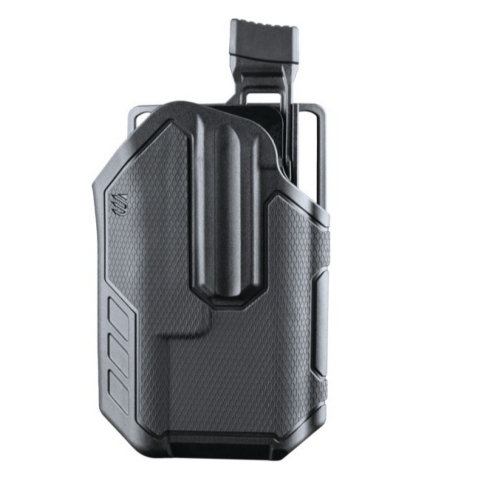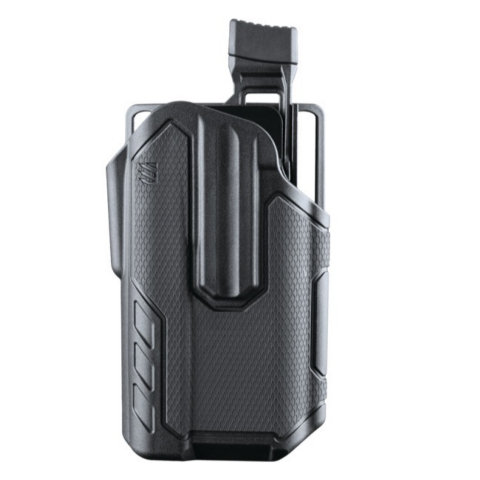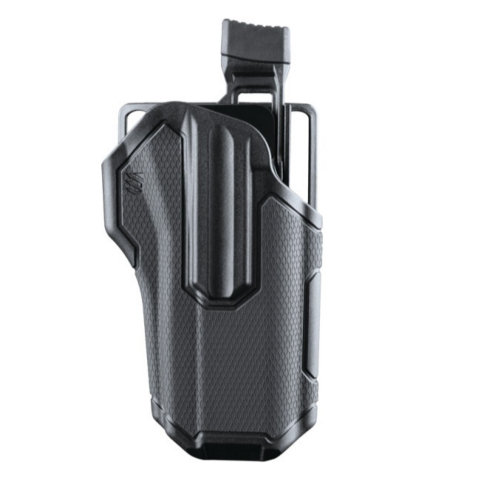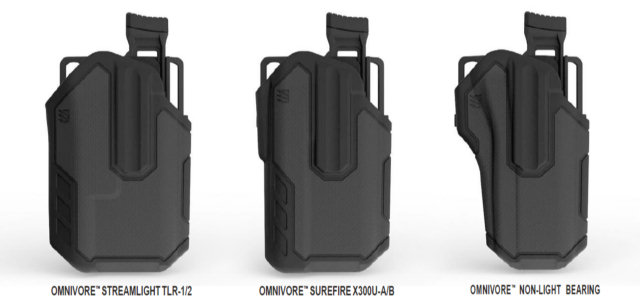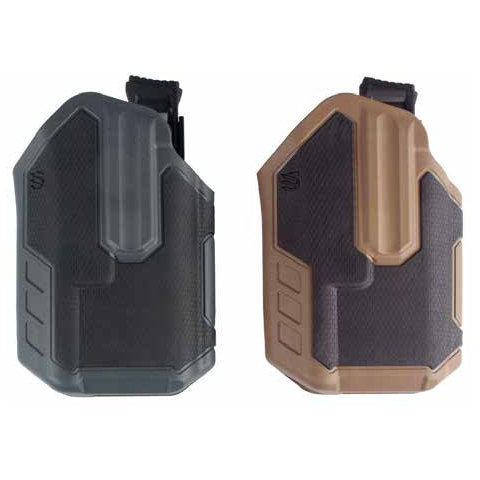 Click on images for larger view
BlackHawk Omnivore Holster
Our Price $49.76 | You Save 17% | Retail $59.95
No: 26-4790
Multiple holsters for multiple handguns is no longer an issue. The BlackHawk OMNIVORE™ is a multi-fit holster that accommodates more than 150 styles of semi-automatic handguns with an accessory rail. The active retention mechanism locks onto their proprietary Rail Attachment Device, not the frame of the handgun. A thumb release disengages the locking mechanism when drawing the handgun.
The BlackHawk OMNIVORE™ represents the future in retention holster technology, and delivers unparalleled firearm access.
BlackHawk Omnivore Holster Features:
• Multi-Fit: OMNIVORE™ Holsters fit more than 150 styles of semi-automatic handguns with an accessory rail
• Active Retention Mechanism: Ergonomic thumb- activated retention mechanism delivers instant firearm access
• Level 2 Retention: Uses two features to hold handgun securely in place
• Free-Floating Design: Holster locks onto Rail Attachment Device, doesn't wear firearm's frame and finish
• 3-Position Adjustable Release: Height of thumb- activated retention mechanism adjusts to fit your hand
---
BlackHawk Quick Disconnect System